Storybook
Wedding Photography
So you've found the perfect wedding venue and now you need a way to both celebrate and commemorate your big day.
We have wedding photography packages to suit all budgets from 1 hour through to All Day.    
At Shine Pics, our mission is simple – we want to help capture your wedding day by specifically focusing on capturing the actual moments, the emotions, the personalities, and the true aesthetic beauty of your wedding day. We don't simply snap away at the shutter hoping to capture a nice shot, we constantly look for whats different, what you miss on the day being so caught up in the running of it.
We've been photographing and filming weddings for over a decade now, and with each new year, we're just as excited to branch out and continue to evolve our style to capture what really matters to today's couple. At its most basic form, our aim is to deliver a quality, affordable service that we can be proud of, and this is reflected in the kind words our clients leave about us.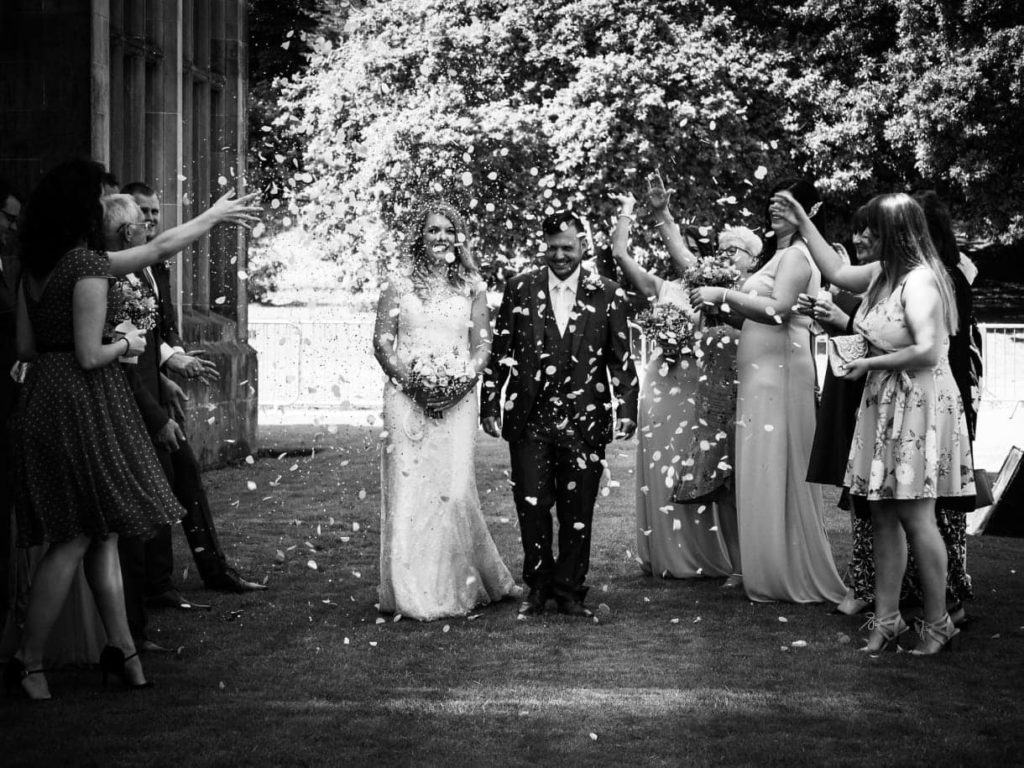 Here at Shine Pics, we're a husband and wife team. Since 2007, we've passionately worked together at events to make sure that we always have every angle covered – and that stands for both photography and videography. We also have a fully qualified and experienced team on standby should the worst happen, so you can rest assured, your day is as safe as your love.   
By keeping everything, not only in house, but also in one family, we are able to keep our prices affordable and pass these savings on to you.
We like to envision ourselves as more than just a team of photographers and videographers – at Shine Pics, we want to be an integral part to your wedding day. Not only do our photographs and videos serve as the documented visual record of your wedding day, but they should also serve as family keepsakes that can help remind your entire family of how bright your light of love can shine.
At Shine Pics, we know just how important this day is to you, your partner, your family, and your friends – and it's just as important to us! When you decide to work with us, you can rest assured knowing that we'll always do everything we can to ensure that we capture your special day just how you want to remember it – perfect. We are fully insured and covered under public liability for your added piece of mind.
Why choose us for your Wedding Day when you have so much choice.
Firstly, thank you for even getting this far, it really means a lot to both me and Diana that you have taken the time to read a bit more about us, hopefully there is enough here to help you make a decision, if you have any questions at all, please do not hesitate to get in touch with us. Here at Shine Pics, we understand just how important your wedding day is to you, especially because we experienced it ourselves! We are a husband and wife team looking to capture the most important day of your life just how you have imagined it – perfect. Since 2007, we've been happily and passionately delivering personal, professional photography and videography services throughout the UK to couples seeking a more intimate and personal aesthetic to their photographs and videos from their special day.
Throughout our time in business, we've been fortunate enough to have worked alongside each other as a true husband and wife team, helping to capture your memories on this very special day in such a way that you didn't even realise we were there. Our main goal is to provide an unobtrusive service, while also making sure we capture all of the biggest and brightest moments from the day, and most importantly, at an affordable price. In our minds, capturing your special day shouldn't be a luxury, it should be easily and readily accessible. Here at Shine Pics, we're going to showcase just how bright your light of love can shine! Below are some of the kind words our happy couples have shared about their days.
As you can see throughout our website, all our wedding reviews are by real couples with real profiles. We are proud of our achievement and near 100f231aa2eea0c1442826b9fcc896f8ad15a440f48085f1cf5a50cb74b20cc3426 recommendation from hundreds of couples across many different review platforms.