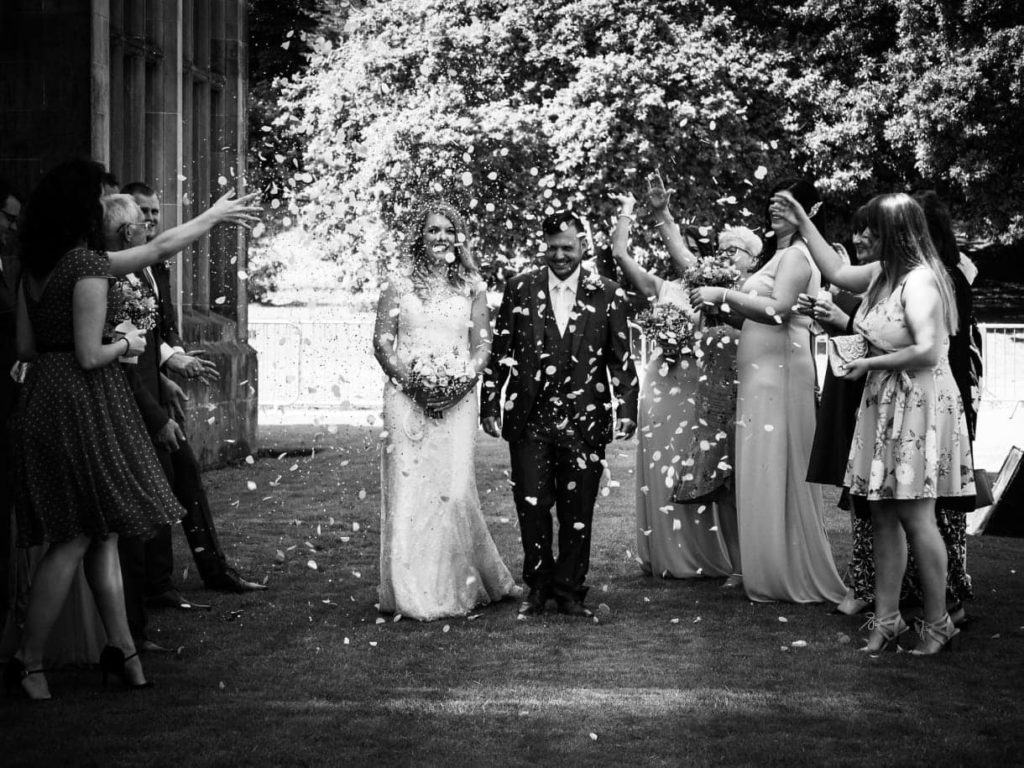 Choosing a wedding photographer doesn't need to be a complicated process. It's just a matter of asking the right questions if you want to hire a reliable one. They should be willing to help and guide you to the right service for you on your wedding day. We are all unique with different requirements, photographers that box themselves into "I only do this" are starting to find it a lot more difficult. 
How far in advance should I book a wedding photography service?
Most Wedding Photographers will take bookings 2 years in advance, some more, some less, so if you find one you like, best get this question out right at the start. If they dont take far enough in advance, ask if you can go into a "pencilled in" book as first option once the date becomes available. 
How much is the deposit and when to pay it?
Most times, you wont want to pay the full amount upfront, after all, you are booking something possibly a couple years away, so budgeting for all your wedding services needs to take priority to paying any single supplier. Most Wedding Photographers will request a non refundable deposit to secure your booking. This is done to protect you and them as once its booked, its removed from the calendar. Here at Shine Pics, we also offer a monthly direct debit plan

, where we take the whole balance and just divide by the remaining months, in most cases, this brings your Photography budget down to £30-£50 per month making it a lot more manageable and also one less thing to worry about.  Make sure you find out when the final balance is due as well, as some will require it a couple weeks before the day. We will allow the final payment in card or cash on the day if required.
Is there a contract that I need to sign and what does it state?
The contract should clearly state the terms and conditions of the wedding photographer. The agreement that you both decided should also be written to ensure that both parties understand the policies of each. The document may also state the condition about reprint or digital access rights. Make sure to read everything before you sign the contract. Our invoice serves as our contract where we detail everything that has been booked. Paying the deposit or setting up the direct debit acts as confirmation. We also follow this up with a detailed email and our quotes always include what you can expect on the day.
Are there extra fees if I want to add services?
Knowing what the package covers and its price allows you to set your budget effectively. It is essential to clarify costs for extras  if you don't want surprises in your bill. Some wedding photographers display the cost of their wedding photography package but make sure that there are no hidden costs, especially if you want something that is non standard. Better to ask questions if anything is not clear, do not make assumptions as they are often wrong.
What if I Am Unable to use certain services that are part of the package?
Asking this question can help you avoid any dispute afterwards based on incorrect assumptions. For example, you may not want the dances photographed, but if you dont let your photographer know, they will stay on if its part of the package. Letting them know could result in a discount for you and them leaving earlier.
Do I have to pay for Any assistants/Meals/Travel/Accomodation etc?
If your photographer is staying on past midnight because you are having a fireworks display and the venue is a 2 hour drive away, its safe to assume they will request an overnight stay either at the hotel or a B&B close by. Offering a meal is always a welcome gift and in most cases, the venue will allow for this without cost to you. Find out the free travel radius allowed and if your home/church/venue/ are miles apart, check the extra cost for this. We have had weddings where the brides house and church are over an hour apart and then the venue a couple hours from that. Its better to be upfront about this so there are no discrepancies close to the day or any feeling of negativity.
Other bits and Pieces to keep in mind/Action before booking.
1. Settle On Your Style
Before you start looking for a photographer and videographer, you will need to decide the photography style you want as it will help you decide the photographer you will want to shoot your wedding. What options do you have?
– Documentary: Rather than a series of posed photos, these are spontaneous or candid pictures of the people, décor and all the action as it unfolds. Normally the shots will include a lavish raw bar just before the guests start streaming in, your motley crew of friends shaking it off, or you and your maids laughing with champagne in hand. With this kind of style, you will rarely have people staring at the camera because the photos will capture the moment just as it unfolds and they tell the best story.
– Portraiture: If you have a greater preference for classic portraits, you can opt for a traditional photographer and videographer who has a specialty in portraiture. There are typically posed shots of your family, friends and even you in front of different backgrounds. This, however, does not imply that there is no room for some creativity. While some photography experts shall pose their subjects in some overly traditional spots or formal poses, others will take the portraiture style a notch higher with some creativity. For instance, a creative photographer will capture a couple holding hands on a dirt road and with rugged hills in the background.
– Fine Art: Although it is almost similar to the documentary style, this one gives the photographer or videographer a better artistic license to infuse their own style and view into your photos. While these shots will reflect the reality, it is actually the photographer's reality. Normally, these photos will be gorgeous and dramatic, but look as if they have been shot on film with a dreamier, grainer or muted appearance. The subject is normally in focus while the background seems blurred.
2. Do Your Homework
Begin your research by going through reviews from newlyweds and browsing through numerous local listings. Carefully look at your potential photographers' blogs and websites to inspect the photos or videos from other weddings they have shot, which will give a glimpse of their preferred style. Go further and look at their Twitter, Instagram and Facebook pages as well. Have their clients left them some positive feedback?
3. Schedule Interviews
Getting a photographer and videographer for your wedding isn't a decision that you can just make by looking at their website, blog or social media pages, you need to meet them in person. If you're pleased with what you find on their website and their fees are within your budget, inquire if they will be available for your wedding date. If they are already scheduled for another wedding, you can inquire whether they have an associate or can recommend a shooter for you. It is advisable to set up a meeting with three to five photographers so as to assess their work and settle on the best option. Rushing to hire a photographer can cause you to miss out on one who would have done the job even better. You must also be prepared to discuss your wedding style, venue and the vision of your photos.
4. Go Through Some Of Their Wedding Albums
It would be a terrible mistake to base your decision only on what you see in the photographer's or videographer's highlighted gallery or album. For a good reason, photographers will show their potential clients a portfolio of their best shots, all from the different weddings they have served so you are seeing the cream of photos. The only problem with this is that you will not get the best idea of their work. Request for three or four complete galleries for weddings they have shot so that you can envision how the complete photo collection shall be like after the wedding. If you realize that the album photos are as good as what is shown on the gallery highlights, then you are on the right track. Moreover, you can ask to see an album or two of weddings that will be in a setting that is similar to yours.
5. Review The Albums Carefully
When going through the photographer's album, pay close attention to some key moments you would like captured: Was the photographer able to capture the groom and his bride staring at each other? Besides, look for thoughtful compositions, the crispness of the images and the lighting of the photos. Look out for washed-out pictures that have blurry details, unless it is the style you're looking for. It is equally important that you detect sensitivity when capturing people's emotions; ensure that all the subjects look relaxed and are not like a deer that was caught in the headlights.
6. Confirm The Shooters
A majority of wedding photography and videography companies normally have a lot of photographers and unless it is stipulated in your terms and conditions, the company's lead photographer might not be the one who will shot your day. Since every photographer has a different personality, technique, and style, you will need to ensure that the photographer you interview and settle on shall be the one working at your wedding. Besides, do not forget to include specific terms in the working contract about anyone else who will cover for your photographer should anything happen on the actual day. Inquire if the photographer shall have any assistants and if yes, how many will they be?
Why Should You Hire The Same Company For your Wedding day Photography and Videography?
This is no foreign concept in the wedding industry. Wedding videographers and photographers can at times butt heads, with all professionals competing for the limited space and similar angles on your wedding day. To avoid such risks, it is advisable to go for a single combined package with one company for your wedding photography and videography needs.
1. The Shared Accountability and Incentives
This is pretty much obvious; a videographer will want the best possible videos from the wedding and photographer will want to capture the best possible images. By settling for the same company, you align your priorities and the photography and videography teams are incentivised to come up with the best possible product for your wedding. As a result, both teams shall be more willing to coordinate, communicate and even share time. Moreover, going with one company for both activities ensures that a single company is solely accountable for the end result, so the separate wedding teams will not have to blame each other for ruined shots, missed shots or even poor communication.
2. Better Positioning, Workflow, and Communication
Shared teams obviously have experience working together so they will definitely anticipate each other's needs, style and positioning. The end result shall be fewer missed or ruined shots by one team obstructing the other's angle. Just look at it this way: would you go for a music band that is performing together for the first time? Would you bet on a team that hardly plays together regularly? Obviously not. The synergies between video and photo teams that work together every time translate into a good end product.
3. A Common Shared Style and Vision
Going for a combined wedding videography and photography package will ensure that you receive consistent style and quality. Moreover, you will experience a shared vision among the photo team, video team and yourself. Therefore, if you happen to despise a particular pose, your entire team shall share the knowledge and vision. If you do not want cheesy or silly poses, your entire team shall be on the same page. If your desire is to have an editorial, dramatic or moody feel at your wedding, each team will work to ensure that the vision comes true.
4. Fewer Contracts and Less Hassle
Using a single company for your wedding photography and videography needs will definitely save you a lot of time in the booking process. You can simply set up one meeting for both parties, communicate with them at the same time and sign only one contract before the wedding date. Going for multiple companies will double the required administration regarding the photos and videos.
The wedding jargon shouldn't bring confusion to your memorable day and with the insight above, you can easily determine what's best for your wedding, the videography and photography company to hire and what steps you should take before doing so.