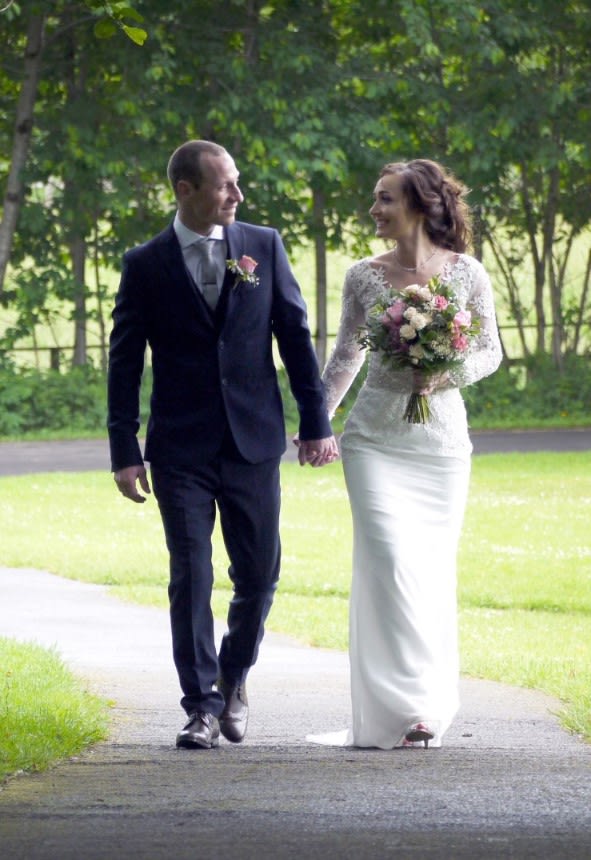 Many of us find planning a wedding rather stressful. A big part of that is having to negotiate whom to invite, whom to avoid, who is important in your life enough to become a part of your Big day and of course how many heads to feed. Many an argument and falling out occurred as a result of that selection. Which is why some prefer to just elope. Most however cant find the courage to exclude society from one of the most "social" private functions of our lives and so the planning begins.  But there will always be strong believers that the wedding affair is a strictly private business and only "blood" are welcome.
I have taken pictures of many small weddings. And they were all lovely and intimate. Each had their own charm.
However, 1 particular wedding really touched my heart. Liga and Intars at the Roe Park Hotel and Spa in Limavady.
There were only 11 people present including the bride and groom. They were all immediate family. The ceremony room contained a giant white silk round dome gazebo decorated with lights and flowers. Floor lanterns with real candles, vintage lace, hessian bows and wild ivy looked magical and transformed an otherwise standard hotel lounge into a fairy-tale. The bride looked effortlessly flawless and radiant.  The ceremony was perfect. Just the right length for everyone to be in the moment and pay attention to each word. There was certainty that no one was bored and everyone was involved, everyone cared deeply. The bride later confessed to me that her dress that I assumed came from an expensive bridal boutique was, in fact, a very cheap purchase from China customised by the bride by adding some beading. I was certainly fooled and I thought I had an eye for those things. Her hair was simple and elegant. A cascade of long loose curls that never heard of bleach. The couple had been together for 10 years. And it was well worth the wait! Their day was far from lavish but it had all the components to make it truly special.